International cider competition
Who can enter the competition?
Cider producers from all over the world. The aim of this International Cider Competition is to honour the best European and world products through highly-professional ratings. The championship will be held on 19-20th November at Erribera Kulturgunea's facilities in Astigarraga (see location in Google Maps). 19th of November is the last day to participate.
What are the competition categories?
Why participate in this Cider Competition?
This Cider Competition will be judged by an international committe or renowned cider tasters from USA, Great Britain, Germany, France and Italy.
The national comitte include wine sommelliers from renwoned spanish restaurants, BJCP judges, Wine and Beer journalists and bloggers from all around the country.
The standard of the competition is guaranteed by the team of experienced professionals in International Competitions.
Medals will be awarded according to points reached: – Bronce medal: 30-37 points – Silver medal: 38-44 points – Gold medal: 45-50 points
"Best of category" will received a "Chapela" and "Best of Show", will receive a prestigious trophy originals designed by the

prestigious sculptor from Alkiza Koldobika Jauregi

.
In the Awards catalogue will only be listed ciders with the minimum score, 30 points.
What can an award from the Cider Competition bring you?
Rising prestige and value of your products among Wine and Beer dealers in Spain.
The right to affix appropriate medal stickers to your bottles and the possibility to show the award reproduced in your promotional materials.
Award promotion among media partners.
Instructions
Enter all required information in registration for the international cider competition.
To take part in the competition you must pay 30€ for EACH PRODUCT registered.
The rates include:
– Descriptive file of the assessment
And for the awarded products:


–

Badges for bottles
– Golden, silver and bronze medals
– Diploma
– Best in Class prize (txapela)
– Best of Show prize (trophy)
– A mention in Sagardo Forum 2021 magazine
– Delivery of the prizes obtained
Please proceed with the payment by bank transfer or by credit card in registration for the international cider competition.
Final date for registration: 10th November 2021. We strongly encourage entrants to register early and ship early to ensure that weather-related delays or other unforeseen events don't prevent their entries from being judged at this year's competition.
Please send 3 samples of 75cl/50cl or 4 samples of 33cl to: Fraisoro Laboratorio Agroambiental Sagardo Forum Finca Fraisoro s/n 20159 Zizurkil Gipuzkoa – Spain
Medals will be awarded according to points reached:
– Bronce Medal 30-37 points
– Silver Medal 38-44 points
– Gold Medal 45-50 points
For each Class, a "Best of Class", will be awarded by a selected Tasting Committe.
Finally, between all "Best in Class", a "Best of Show" will be elected among the Tasting Commite.
The awards ceremony of the International Cider Competition will be held on November 21at 10:30 in Kursaal Congress Center (see location on Google Maps),
Please contact us at info@sagardoforum.eus with any questions or concerns.
We look forward to you being a part of Sagardo Forum International Competition this year!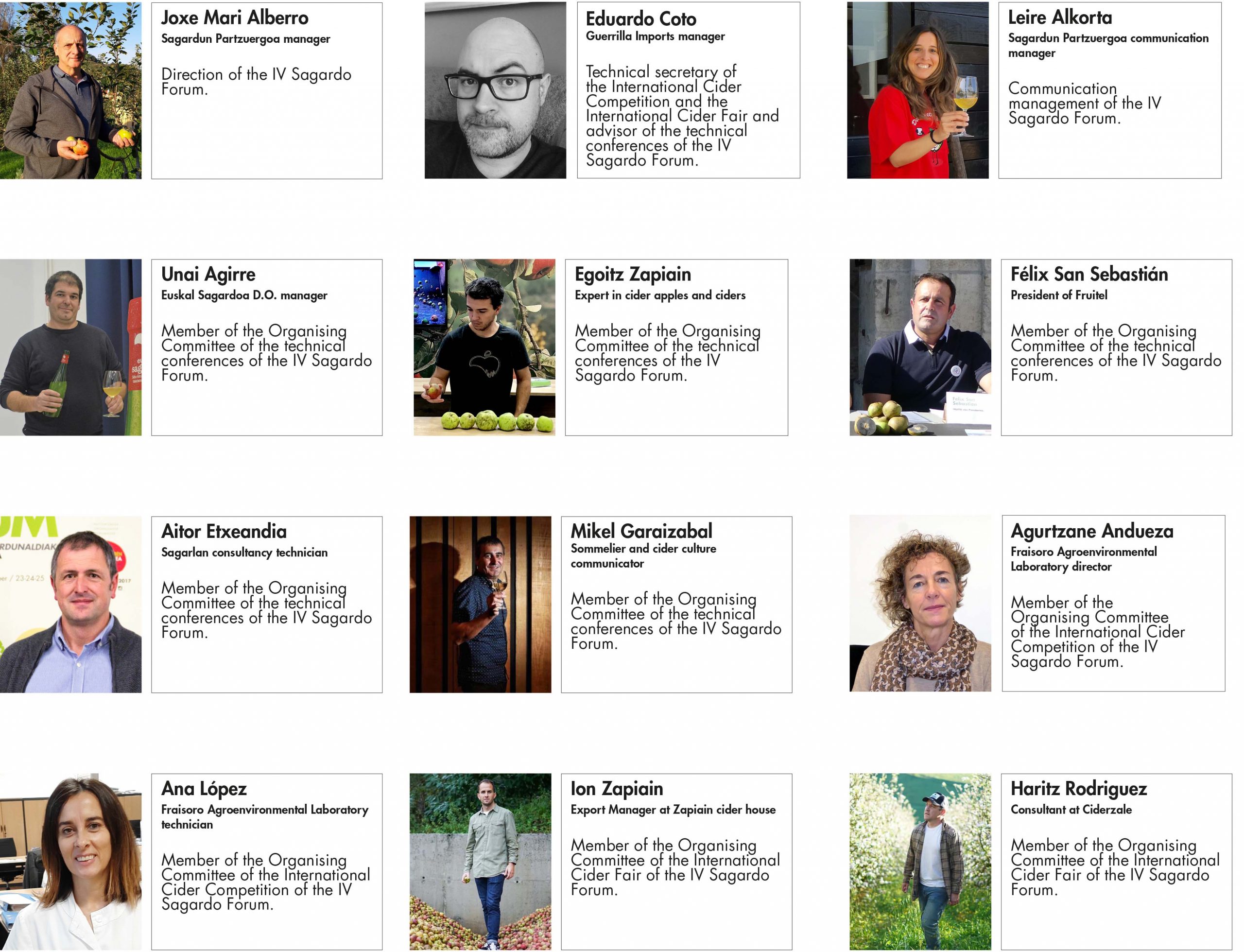 ORGANIZERS AND COLLABORATORS