Route of the Silver Lighthouse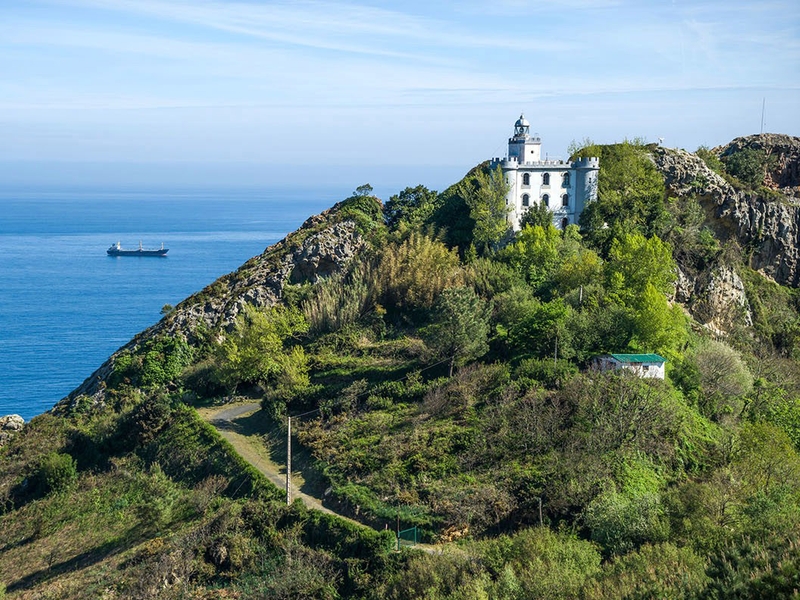 This is a beautiful walking tour that allows us to cross the coastal hills from the neighbourhood of Gros to Pasaia in a few hours. A stone's throw from the streets of the capital of Donostia-San Sebastian and the active port of Pasaia, Mount Ulia is a beautiful place where you can enjoy majestic ocean views.
We begin our journey near the far end of La Zurriola beach, across from the Kursaal. There, taking the street Zemoriya, located behind the Larramendi petrol station, we begin to ascend to Ulia, perhaps the least well-known mountain near Donostia-San Sebastian. White and red markers will guide you along the way.
After about ten minutes of an uphill slope, you reach an area with amazing views above the city. There is a tight curve on the left that will lead you to a pine grove where you can go down to the headland of the tip of Mompas. There, in addition to the ruins of a fort, there is a beautiful area of rocky cliffs inhabited by seagulls. Continuing along the path through a shaded area, you come upon the source of the Kutraila among hydrangeas, whose waters are said to have healing properties.
On the left, a road descends to the sea beneath some large rocks. When the trail ends at a cement path, you have to descend a few metres and take the path that starts at a curve. You walk through a leafy grove, and at the end of this path, you will see the Murguita cove below. From there you will pass by two ancient aqueducts and, between them, see the source of "The Englishman".
From afar you can see a white and crenelated construction, usually surrounded by seagulls, reminiscent of a fairy-tale castle. It is the Silver Lighthouse, located at the entrance to the Bay of Pasaia. The lighthouse owes its name to the tip of La Plata (the Silver) where it is located. The sandstones that form this cliff apparently acquire a silver tone when washed by the waves as seen from the sea, which made the sailors baptize the location as La Plata.
Along a path that is parallel to the entrance of Pasaia, you start to descend into the district of Pasai San Pedro. To finish off the excursion, there is nothing better than taking one of the motorboats that connect Pasai San Pedro to Pasai San Juan, and walk along its single street, surrounded by beautiful houses that look out upon the sea, as well as stop for a bite of exquisite fish.